Automatically save a local file at a specified interval.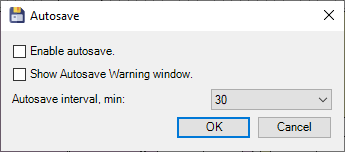 Allows you to select the storage interval: 1/10/15/30/60 minutes.
If the file is not changed, autosave does not occur. The timer starts only after the performed action and the completion of all processes occurring in the model, for example - regeneration, editing a group.
This script doesn't sync the file.
When saving a project locally, it is possible to use the standard "Undo" function, since the history of user actions remains.
Settings:
Enable autosave - enables / disables the autosave function
Show window "Warning about autosave" - enables / disables the warning window about the need to save the project. If the function is disabled, the program automatically saves the project after a user-defined period of time.
Other articles